WelcomeHome
Benchmark Report: Q3'2023
We are excited to share our latest benchmark report! Learn about the key trends that shaped Q3 of 2023, the observed traits of the most successful communities, and the valuable information you can use to navigate the rest of 2023.
A CRM That Senior Living Operators
Rely On
Senior living communities across the country continue to outperform the market by trusting & relying on WelcomeHome's CRM. Our mission is simple - we aim to improve the sales & marketing performance of our clients.

To showcase our efforts, we aggregate data from our customers every quarter to help update our key benchmarks surrounding metrics like tour ratio, move-in ratio, & close ratio.

The results are always changing & are outstanding!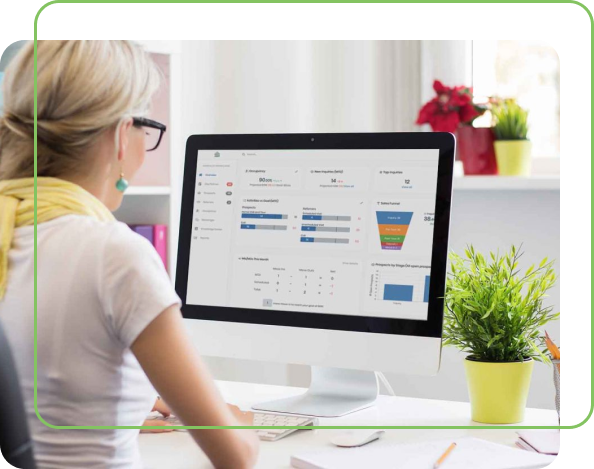 Automation
Increase your team's efficiency so they can spend time on what matters most. Our automation tools include a virtual sales assistant, tasks & reminders, virtual standup board, auto-responders, and auto-logging.

Customization



WelcomeHome works with your existing marketing, sales, & operations processes. Everything is customizable from dashboards, sales stages, communication templates, terminology, and even the knowledge center.

Integrations



WelcomeHome works with all of your existing 3rd party billing & health management along with your existing marketing systems. It has integrated email, texting, Zoom, and calling tools and works seamlessly with your calendar.

Reporting



WelcomeHome lets you track and report on occupancy, move-in/move-out, activity reporting, goal tracking, lead analysis, and KPI reporting. We'll even email these reports to you on a regular basis.

Mobile Use



WelcomeHome is cloud-based and can be accessed anywhere. Never miss an important notification with our full-featured iOS and Android mobile applications.

User-Friendly



Our user-friendly interface offers a simple and intuitive design for easy user navigation. Whether you're a sales director or an owner, WelcomeHome is for you.
Significant Increase


in Efficiency




On average, 6 hours of work have been saved per user per week while using WelcomeHome.
Tangible Sales


Impact




Many customers have seen over a 12% improvement in customer conversion after switching to WelcomeHome.
Increased Outbound
Sales Productivity

Communities have seen over a 175% increase in outbound sales activity after transitioning to WelcomeHome.
Immediate
Impact



All users are fully trained and utilizing WelcomeHome within 30 days. That's a guarantee!



© 2023 WelcomeHome Software. All Rights Reserved. | Site Map | Privacy Policy
contact@welcomehomesoftware.com
Contact Us
(800) 980-8661 | (866) 931-1640
Sign In